Sexual Vitality Summit
Posted By kd_lewis
Posted on August 28, 2019
Sexual Vitality Summit: September 23-29, 2019
Recent research data says: you're having LESS sex than your grandparent's generation.
Even worse, the majority of new sexual health solutions are not yet used by the mainstream medical community, much less well-documented online.
More people than ever feel sexually disabled, and most suffer in silence, longing for the connection and pleasure that is their birthright as human beings. There ARE solutions to our most frustrating bedroom issues.
And the average doctor is NOT trained in the new protocols nor educated about the root cause of sexual health problems, EVEN if you're willing to ask for help.
You have a right to actionable, expert-driven information about your sexual health — and you've found it here!
In this ground-breaking event, 28 experts, doctors and sexologists reveal the newest, most innovative procedures, safe natural solutions and life-changing restorative protocols for people across the gender and generational spectrum's.
Are you ready to supercharge your sex drive?
Just click the button below to register for the SEXUAL VITALITY SUMMIT: September 23-29, 2019.
Choose a

FREE

Gift when you Enroll Today!
Select the Gift you would like to receive from the selections below.
When you do you will also be registered to attend the Sexual Vitality Summit, FREE and Online from September 23-29, 2019.
Susan Bratton's 32-page eBook, Hormone Balancing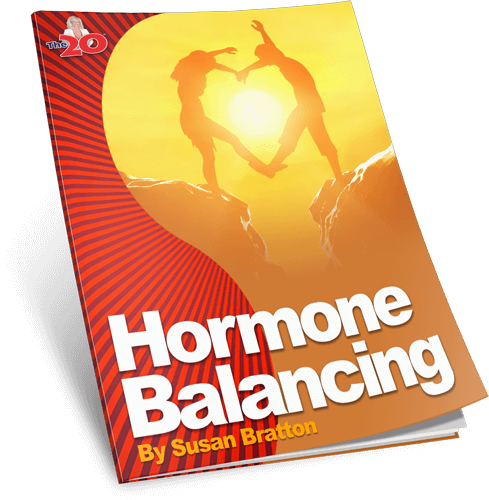 The very fact that you're taking action to discover more about your hormonal and sexual health tells me you're a pro-active, forward-thinking person.
That's what it takes to step into a world of technological advancements that can change your life for the better.
Some folks shrug their shoulders and say, "It's just my hormones," as if there's nothing to be done with the changes that come with aging or other imbalances. But as we get into this topic a bit more, you'll realize that you can take control and work with your hormones, which is crucial if you want to optimize how your body and mind function.
In this book, you'll hear the opinions of a variety of medical professionals: doctors who specialize in functional, integrative, naturopathic, allopathic and oriental medicine. I've also included insights from a couple of hormone coaches.
Here are some of the other topics you'll learn about in the pages that follow:
How to produce your own hormones
How to measure the hormones in your body
Which tests to ask for so you get accurate readings
Pros and cons of hormone replacement
How to know if you have hormonal imbalances
Risks and advantages of hormone therapy
Non-hormonal contraception
Negative effects of birth control pills
Testosterone and its effects on erectile dysfunction (ED)
5 causes and 8 effects of ED
And more!
Susan Bratton's powerful, 34-page eGuide, Hot to Trot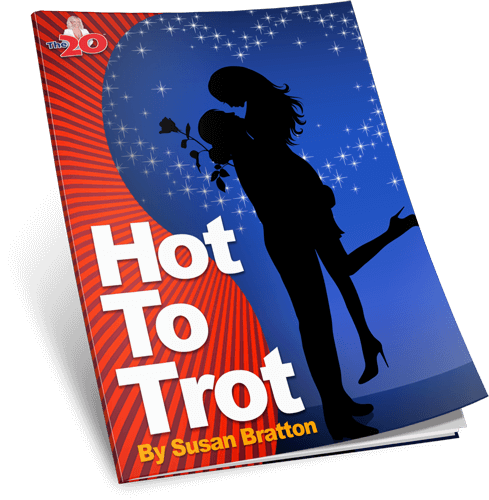 I promise there is a solution or workaround that has eluded you until this moment.
Let's get you unstuck with natural remedies, innovative new treatments and healing techniques covered in this guide.
Even if you have generalized "lack of libido," we have answers!
Before I created this guide, I didn't realize the two issues that most heavily impact libido, besides specific health issues such as diabetes, inflammation from autoimmune diseases, metabolic syndrome, heart disease, anxiety and depression are:
1) the health of your gut microbiome, and
2) the need to detoxify your body from today's chemical-laden environment.
Having high hormone levels is only part of what makes a person have a strong sex drive. A body full of toxins, along with digestive issues, are at the root of low libido.
Toxins from the foods we eat, air we breathe, water we drink, cleaning fluids, health and beauty aids, and the environment in which we exist all emit hormone disruptors. Three of the top silent hormone disruptors are mold (mycotoxins), lead and cadmium (heavy metals).
Trust me, if you're over 40, you need to detox for optimal health. No one can escape the estrogenic effects of BPAs, soy, plastics, fragrances, food colorings, herbicides…
…the list of toxins in our environment has hit a crisis point.
In this modern age — to stay young and vital — you must eradicate the toxins that get stuck in the fat in your brain, bone marrow and adipose tissue. Your body has accumulated all kinds of nasty environmental contaminants that are suppressing your immune system, exacerbating chronic diseases and wreaking havoc with your hormone production.
Detoxing and resetting your gut allows natural hormone production to work at full capacity.
You CAN reset your gut, immunity and sexual vitality. If you're a man suffering from erectile dysfunction or a woman with low desire and brain fog, restoration of the gut microbiome and opening detoxification pathways may be what's standing between you and a sizzling hot libido.
This is just ONE of the amazing facts you'll learn from this new guide
Susan Bratton's powerful, 35-page eGuide, Magic Pill Method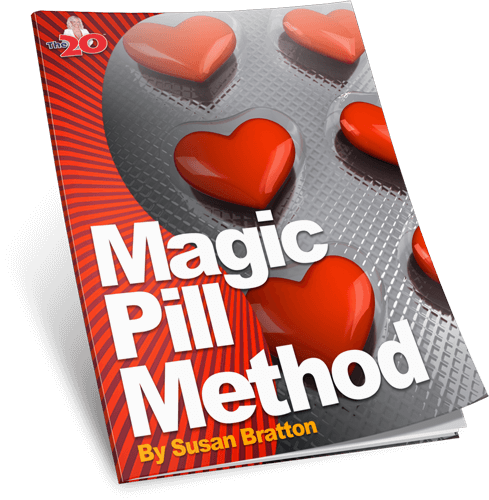 Did you know you can regain your sexual vitality in 3 simple steps?
Yes, no matter how unique your situation!
The "Magic Pill Method" has been proven to work on thousands of people!
Note, it's not a real pill, it's a virtual pill in the form of a structured communication technique to easily work out solutions on yourself (and your partner, if you have one).
The common theme in nearly every person with challenges in their sex life has been a lack of communication and solution-seeking.
People go for years thinking they have a situation that makes enjoying intimacy impossible. In this guide, you'll see that there's PLENTY you can do to get back the passion you deserve — no matter WHAT issue you have!
You truly won't believe how common it is for people to feel like have an unfixable health issue that blocks them from the physical intimacy they crave.
In fact, most people want to be swept away in desire, but are blocked by physical and/or emotional issues.
Midlife alone can take its toll on intimacy. Whether love-making has become painful, or you're dealing with erectile issues, lack of libido, sensation loss, chronic health problems or even body image issues, you don't have to give up your pleasure and connection just because you're aging.
As a trusted sex advisor, Susan Bratton, has been told the details of what goes on (or doesn't) behind closed doors by well over a million people of all ages from around the world and across the gender spectrum.
To a person, these blocks feel insurmountable, unfixable or unchangeable. Many people believe they are utterly alone with no possible solution.
There are solutions, and they can start with this free guide, Magic Pill Method.
Order The Sexual Vitality Summit

Today

!
Your access to these talks allows you to download or watch them online!
In this ground-breaking event, 30 experts, doctors and sexologists reveal the newest, most innovative procedures, safe natural solutions and life-changing restorative protocols!
Purchase The Sexual Vitality Summit by clicking the button below.
Buy today and you'll unlock the ability to add a PRINTED TRANSCRIPTS BOOK during this order – delivered directly to your door!